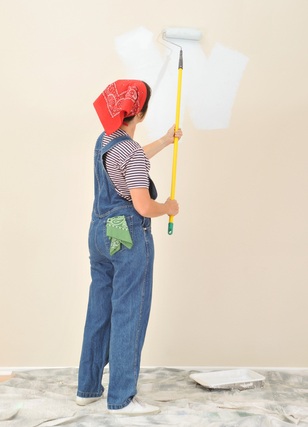 If you've ever seen any of the myriad home improvement shows on cable television, you've probably experienced a moment of inspiration when you thought about sprucing up your own pad. Watching the experts update a kitchen, living room or back patio in two days and for less than $2000 makes even the most tenacious couch potato want to head to Home Depot with plans for a quick weekend project.
Once you've actually done a DIY project, on the other hand, you may have second thoughts the next time inspiration strikes.
I'm a glutton for home renovation shows; Flip This House, Sell This House, Property Ladder, Trading Spaces–I find them fascinating. On the weekends, I'll often hunker down to watch a mini-marathon of home makeovers, intoxicated by the interior designers and handymen working their magic with paint, furniture, and artfully placed throw pillows. For years I've been telling my husband how much I wanted to tackle a room–any room–in our house. Over Memorial Day Weekend, I finally did.
We recently updated our master bathroom with a new tub and a gorgeous travertine tile surround. After the renovation, the old wall color simply had to go. So, I took it upon myself to paint. Seemed simple enough; painting is always the "easy" part that the designers give to the homeowners on the home improvement programs. Grab a roller, make a "W" shape with your stroke, and you're good to go.
Painting a room smaller than 80 square feet took me two whole days–twice as long as I anticipated. After taping the trim, cutting in with the brush, and hitting each wall with two coats, I was exhausted. Sure, the room looked great, but I questioned whether the results were worth the effort.
In hindsight, I realized that the reason home improvements look so easy for the experts on TV is because they are experts. They went to school or pursued an apprenticeship to study interior design or carpentry or architecture and have spent years plying their trade. They have a gifting and a passion for home improvement. Even though I was eager to try my hand at a relatively simple project and figured we'd save some money in the process, the learning curve was steep and the task laborious.
The same thinking applies to your company's communications: Just because you can write them yourself doesn't mean you should. Often, I find clients have tried to get by creating their own print collateral, press releases or website copy, only to find that the work takes longer than they anticipated and pulls them away from the things they do well–the things they get paid for.
When it comes to your marketing efforts, your time may be better spent managing other aspects of your business rather than wordsmithing a new brochure. Instead of tackling the project yourself (or delegating the task to someone in-house), consider calling on an expert to help you get things done faster and with exceptional quality. A qualified freelance writer with a degree in journalism, marketing communications or advertising and several years' experience will know how to help you hone your message and reach your target audience effectively. In the process, you'll be free to focus on exercising your own talents to increase your company's bottom line.
RELATED ARTICLE:
The Dangers of DIY Marketing
Need a quote on a project? Contact Dallas freelance writer Leslie J. Thompson via email.